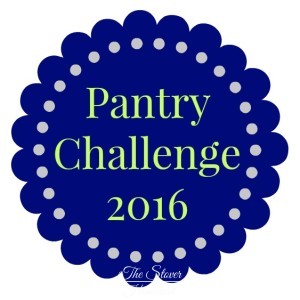 Welcome to Pantry Challenge 2016!  We were so impressed by how well we did last year that we decided to see if we could break our record of 45 days without buying groceries.  I think we might have done better last year if we hadn't been so stringent about the fresh items.  This year, on our last big trip to the store, we were more thoughtful.  We talked over where we thought we had gone wrong – or at least struggled the most.
Lessons learned in  

Pantry Challenge 2015

:
Last year we had a freezer full of chicken breasts from Zaycon Fresh as well as a whole hog from Caroline Owens' farm.   While we attempted creative dishes, by the end of our 45 days, we were sick of both proteins.  We didn't eat much pork or chicken for a month.  I did experience the sensation of craving red meat, though.  Whether it was all in my head or not, the first burger I had was bliss.
I was the site coordinator for our local co-op.  Per our rules, if CSA shares weren't picked up, I was able to donate or take them home.  I took advantage of that once or twice because of members on vacation.  That helped immensely since we had pledged to not even buy fresh food.  Perhaps you saw my request for blood oranges for a Valentine's Day gift?  We weren't at scurvy levels, but I really missed the cold crunch of lettuce by the end of the challenge.
The kids burned through any of the pre-packaged goodies we had.  The toaster pastries, snack crackers and snacks were gone by week two.  The beautiful double chocolate chip marshmallow cookies I found tucked away in the back of the fridge were handy, but short-lived.

Changes we made for Pantry Challenge 2016:
Variety was really key when we made our last purchase of 2015.  We took advantage of the New Year's seafood sales and picked up salmon, haddock, cod, tilapia and tuna steaks.  At home, we divided the larger packages and used the FoodSaver to create meal-size portions.  In the interest of full disclosure, I purchased fishing licenses for Sunshine and myself to catch fish all year.  We did go once, but thankfully we aren't relying on the 4 sunnies we caught that afternoon!

 Pantry Challenge 2016

recognizes that we enjoy all kinds of foods.
I moved some of the frozen berries that we have had in the outdoor freezers to the house freezer to prevent an out-of-sight-out-of-mind situation.  We have several jars of pear and apple sauces left from fall 2014 as well as 3 cases of peaches we put up this year.  In the interest of less food waste, I have decided that if we DO buy fresh fruits and vegetables, the amounts will be for a specific purpose.  No more bags of apples that slowly shrivel up and become goat treats.  If a recipe calls for one apple, then one apple it is.
We are in the middle of a kitchen remodel.  The pantry actually doesn't even exist anymore.  All of our food is stored on garage shelving that we set up around the pool table.  I am happy to not have it right in the kitchen to visually remind me that there is food just sitting there!  Eat it!  I am more vigilant about double checking the potatoes, onions and bread.  Some naan I found began to get moldy, so I threw the remainder of the bag on the table and declared we needed to eat it now!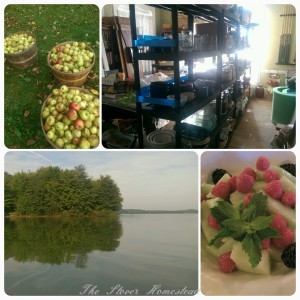 We are still trying to eat well, be frugal and mindful of food waste.  We just realized that sometimes you need a tomato.  Even if it is a hothouse winter red orb that only makes you pine for summer once more.  Commence with Pantry Challenge 2016!
Here's why we started doing the Pantry Challenge 2015.
Here's how we were doing just one month in.