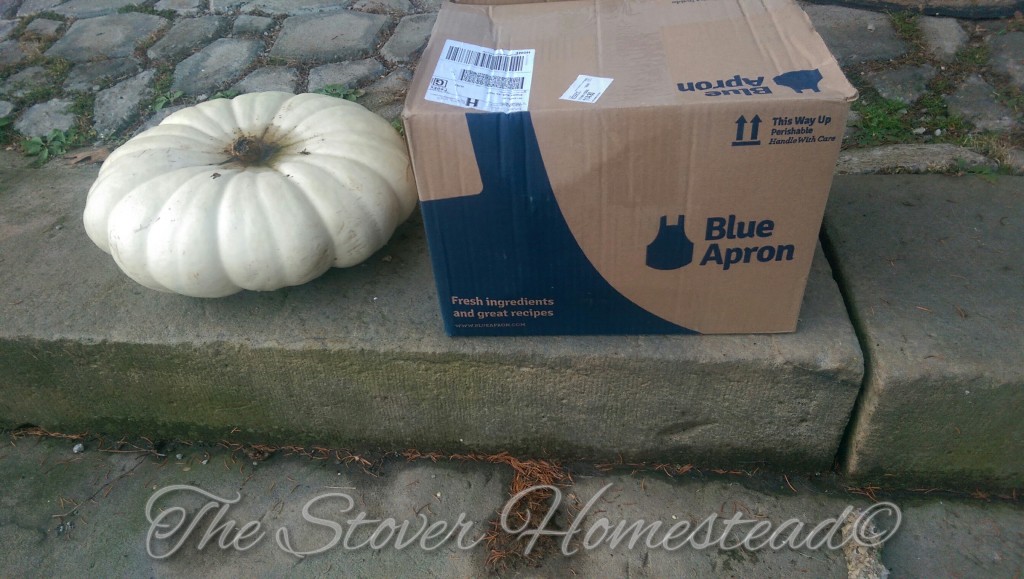 You can't help but notice the helpful ads popping up on social media.  Happy couples cooking side-by-side, prepackaged meals delivered straight to your door, delicious ingredients packed especially for you… It's mighty attractive, I admit.  As a confident cook, I acknowledged the niche of people who this might serve.  I didn't think that I was one of them.  I absolutely LOVE grocery shopping.  In the early days, Keith and I would make a date of it.  Seriously.  I enjoy the selection, the scooping, the squeezing.  I would feel cheated if someone else did that for me.  I also have an extensive cookbook collection that I use frequently.  If I truly wanted to spice things up, I know where to look and how to find something that is new and exciting.  So, no thanks, meal delivery people!  I was fine.
Then I saw this.
A snippet from article written by one of my food heroes, Mark Bittman, popped up in my Instagram feed.  He said, "This will be my last Eat column. When I started writing it, I never would have guessed that it would end in Pittsburgh."  Wait, what?  Mark brought us No-Knead Bread.  He was the person I pointed to when someone asks me "why on Earth would you want to make your own ketchup?"  So, when he announced that he was leaving the New York Times  to join The Purple Carrot, a vegan meal delivery service, I had to reconsider my position.  IS a meal delivery service right for me?
I began to look at reviews, at the different companies and the different plans.  Was there a company out there that would be so overwhelmingly awesome that I would relinquish control of my menus?  I chose Blue Apron because I found a $20 code for my initial delivery.  I don't get paid to blog, take money or product to review anything, or get any residuals.  This had to be exactly as if I weren't blogging, and finding a coupon code is how I would have done it, anyway.
Blue Apron has a pretty site, with clear and bright photos, minimal text and good copy – free shipping, no repeat recipes, buzzwords like farm-fresh and family-run… I have been part of multiple CSAs for four years now.  I've helped out on a certified-naturally grown farm.  I was intrigued because of the obvious less-than-perfect vegetables that Nature provides versus the average consumer's need to perfect looking food.  I am not imagining it, either.  Statistics and articles about food  waste abound.  How would Blue Apron handle this?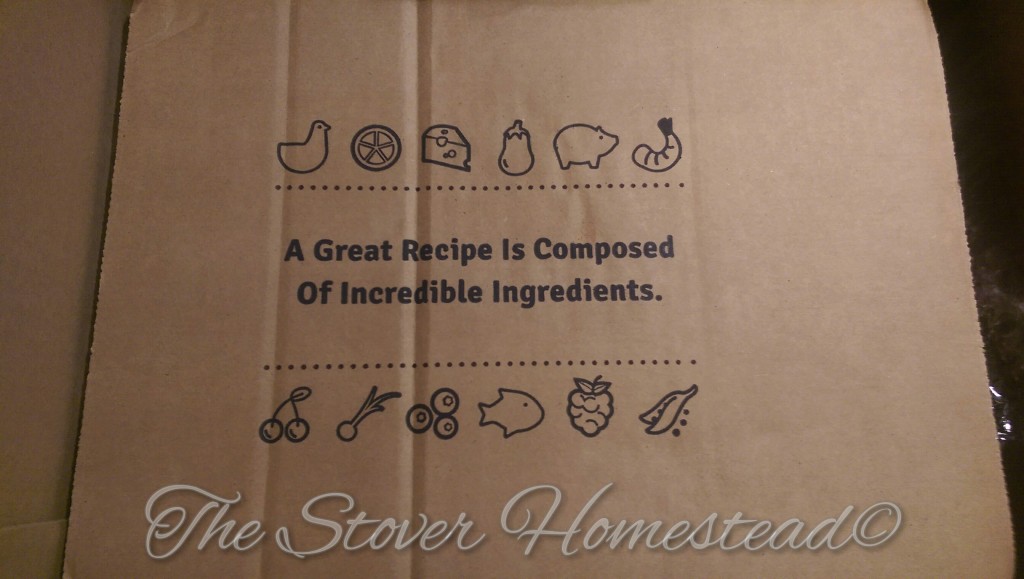 Signing up is easy.  Enter your email and zip code, choose a meal plan for 2 or 4 people and how many meals per weekly delivery that you desire. You can then indicate whether you have dietary restrictions.  There are 5 proteins to choose from.  Blue Apron doesn't have a purely vegetarian option yet.  Then it's whether you are delivering to a home or business, and what day you would like your deliveries made.  It's a quick turnaround. I received my shipment the following week.  Finally, it's your shipping information and your payment info.
Here's the breakdown for us:
4 person meal twice a week
Normally $69.92 ($8.74 per person)
With the coupon code, I paid $49.92 ($6.24 per person)
I chose all of the proteins (beef, chicken, lamb, fish and shellfish.)
Remember, no shipping and handling costs
It's fairly quick and painless.  And you can skip a week by clicking on their calendar.
I didn't immediately see the recipes I was receiving, but after logging back in and clicking around, I found that I was receiving a shrimp meal and a chicken meal.  The other options for my week were a beef stir fry and I think a butternut squash pasta meal.  Those are things we regularly make, so I wasn't interested in paying for someone else's take on them.  I did go with the shrimp because it would be a welcome change.   We routinely purchase shrimp that needs peeled and deveining because all of that labor = $.  It's cheaper do it ourselves.  I was looking forward to having shrimp without having frozen-numb fingertips.  The other dish was Chicken Parmesan.  It's a straightforward dish, easy to judge if it is a success or fail compared to our own, and I wanted to see if The Reno Kid and Sunshine could prepare it without help.  See, I was still trying to figure out why this would be good for us and hoped I could get their opinions.
The first photo in this post is what greeted me when I arrived home.  Blue Apron assures you that you don't need to be home and that the food can sit outside for several hours.  Even in November, there were substantial ice packs and a silver insulated bubble wrap pouch that held everything inside the box.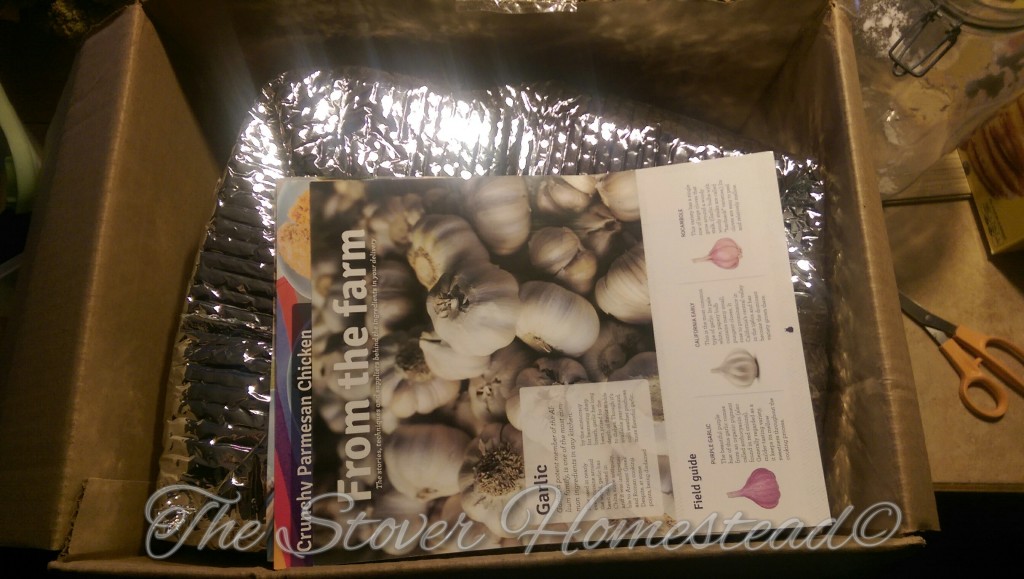 The recipe cards and a newsletter are on top.  Search the Blue Apron site and you will find a webstore that sells a binder, among other things, to hold all of the letter-size cardstock recipes.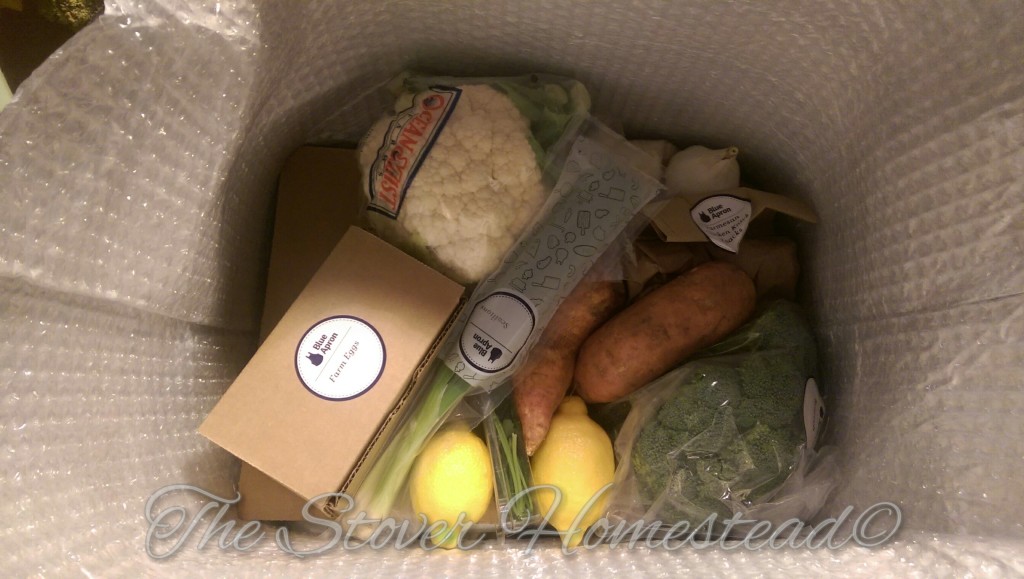 Here was what the box contained.  By and far, one of the largest complaints that I have heard is the amount of packaging in ALL of the meal deliveries – with ALL of the companies.  There is an attempt to at least make it recyclable, but still…  Three scallions, individually packaged and LABELLED.  I tried really hard not to laugh, realizing that there must be a need for it if it was done.  That small box contains "Farm Eggs" – 2 of them.
The eggs were in the plastic carton, wrapped in brown kraft paper and packed in the small box.  *sigh*  So, already, I am irked about the packaging. One fun bonus is that there were two small brown paper bags with "Knick Knacks" on them.  I didn't open them, wanting to make sure that I saved the surprise for when I cooked the meals.
My initial impression is that these companies are doing everything they can to make this easy for you.  From sign up to delivery turnaround to packaging and prep, it seems as though they are banking on the ease to be the selling point.  I would say that it is a success from that point of view, but until the dishes are prepared and the costs are calculated, I am still unconvinced.