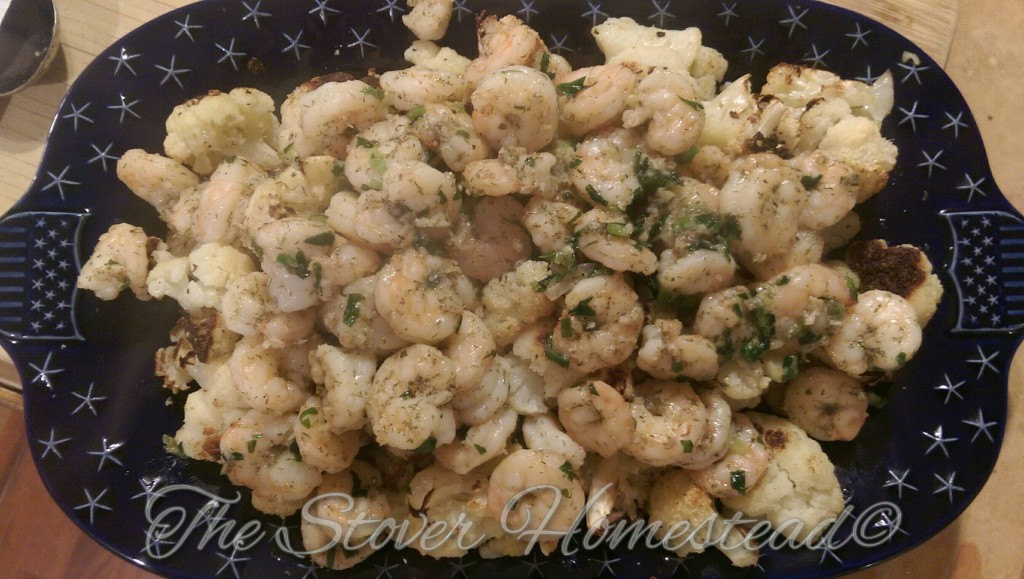 If you have been following along, you will know that I received my first shipment from Blue Apron last week.  Blue Apron is one of several meal kit delivery services that hope to ease the burden of deciding what to make for dinner and going to the grocery store.  I spoke a bit about why I decided to try Blue Apron out in the first of a four part series.  This post will deal specifically with the preparation and consumption of our first meal: my Blue Apron Garlic Herb Shrimp review.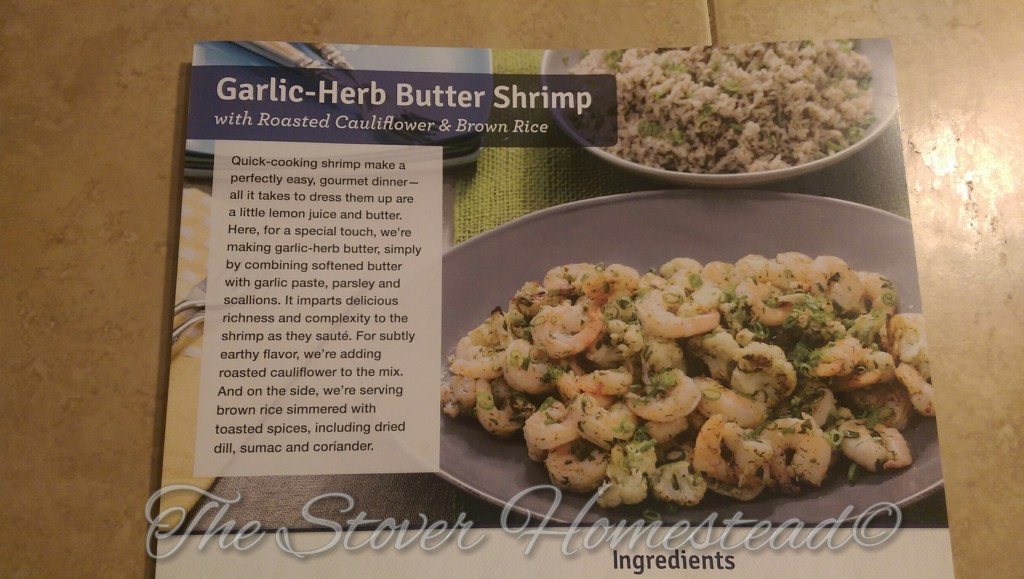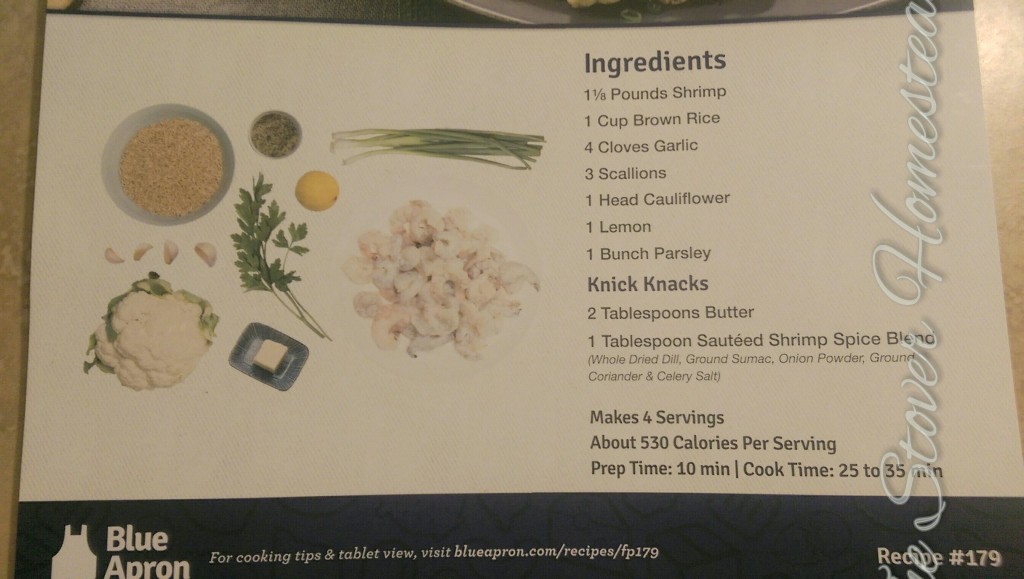 Because I wasn't sure how this was going to go, I placed all of my ingredients, my cutting boards, and small bowls (for holding the chopped items) out on the counter.  I also pulled together all of the ingredients together for a quick photo.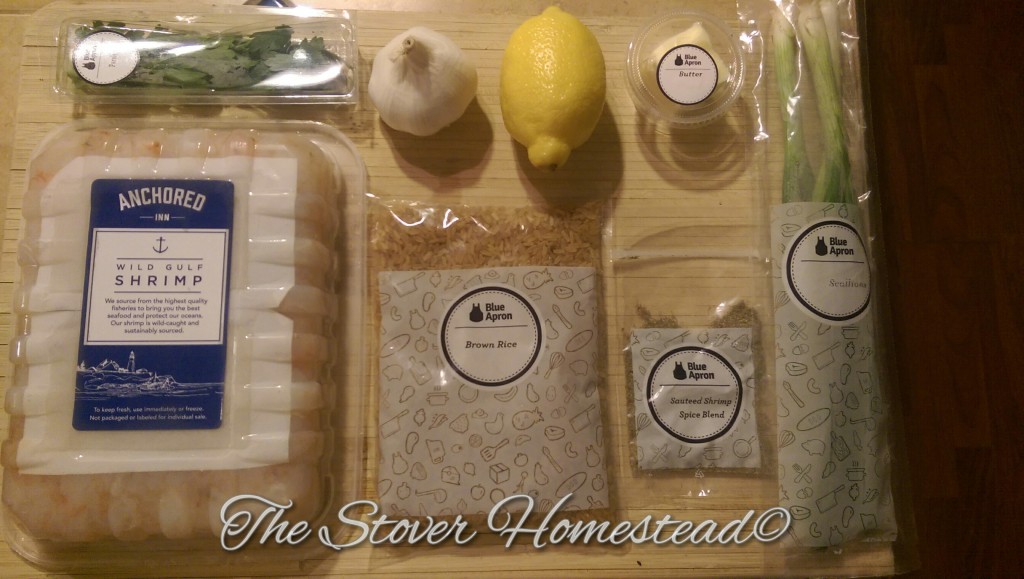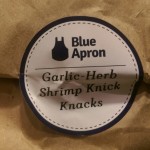 So, the cute little knick knack bag I mentioned in the previous post?  It contained a pre-portioned amount of butter and a pre-portioned bag of herb blend.
I also received the cauliflower on the left.  The recipe calls for 1 head of cauliflower, and no weight estimate is given.  the head provided was about as big as a softball.  We routinely prepare at least a single head of cauliflower, so the one on the right is one that I had from my CSA.  I believed that we would need it when I looked at the recipe.  So, this was my only deviation.
Garlic Herb Shrimp With Roasted Cauliflower and Brown Rice
***I am only posting the link to the recipe because you don't have to be a member to access the information. Blue Apron offers videos embedded within this recipe for how to quarter and seed a lemon as well as info on using a zester.  They even include the actual makeup of their spice blend for the shrimp.  I wrote this on my recipe card in case I want to make it again.
Sautéed Shrimp Spice Blend
2 Parts Whole Dried Dill
1 Part Ground Sumac
1 Part Onion Powder
1 Part Ground Coriander
1 Part Celery Salt

Step one has you chopping, dicing, washing, etc.  You are reminded to take the butter out of the refrigerator so it softens (nice touch) and I applaud the reminder to wash the produce.  Thankfully, they also tell you to preheat the oven here.
Step two is where you start the rice.  You begin by toasting part of the spice & herb mix in olive oil (one of the few ingredients they assume you have, along with salt and pepper).  The entire step deals with how to prepare the rice, down to covering it and setting it aside when it is done.  This is where I didn't understand the directions.  I may have overlooked it, but I never saw anything that stated that you should read the entire card before beginning.  If you were to assume that you were going to have your hand held throughout the cooking process, you might finish this whole 25-30 minute process before moving on.
Step three starts with "While the rice cooks…"  Hopefully, you have read ahead and know that there are simultaneous steps going on here.  You are adding olive oil, salt and pepper to the cauliflower to start roasting it in your oven.  This step takes 24-26 minutes.
Step four also refers backwards.  "While the cauliflower roasts…"  Okay.  At least this is just a garlic-herb butter being made.  you add several of the ingredients from step one, mash it with a fork to mix.  So far, so good.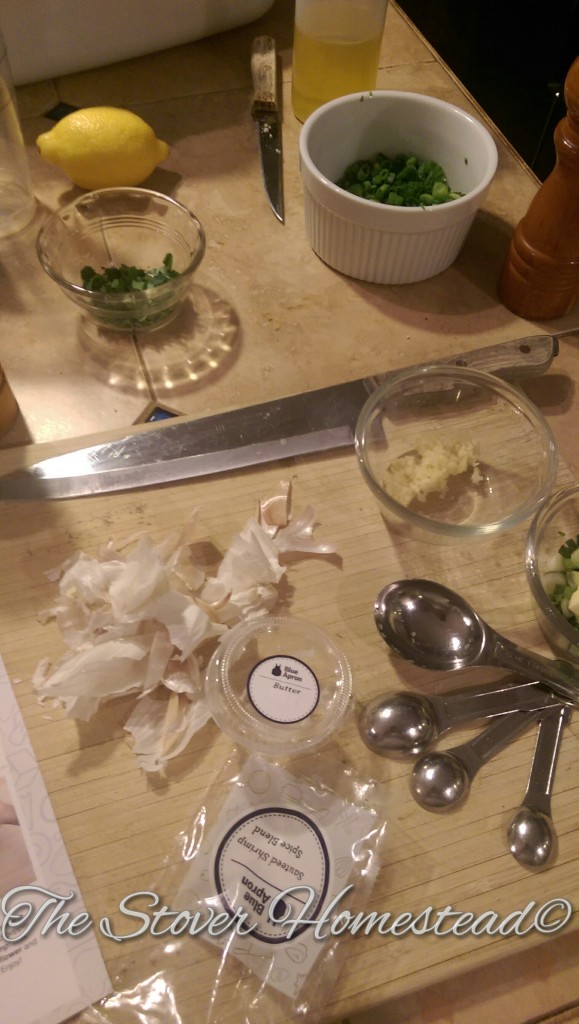 Step five is where things begin to come together.  I appreciated the addition of the note that this step takes place approximately 20 minutes into the cauliflower's roasting time.  I was initially looking for some kind of separate cutting boards comment for seafood versus the vegetables, but I think they want you to open the package of shrimp, dry them in the plastic tray with a paper towel and then transfer the shrimp to a dry bowl.  They do suggest a nonstick pan if you have one.  It was nice, too, that not only did they give a time for the shrimp to cook, but told you they would be "slightly opaque".  I will admit, I was fully prepared for tough rubbery shrimp.  You add the garlic-herb butter to the shrimp here.  The juice of two lemon wedges is also added here.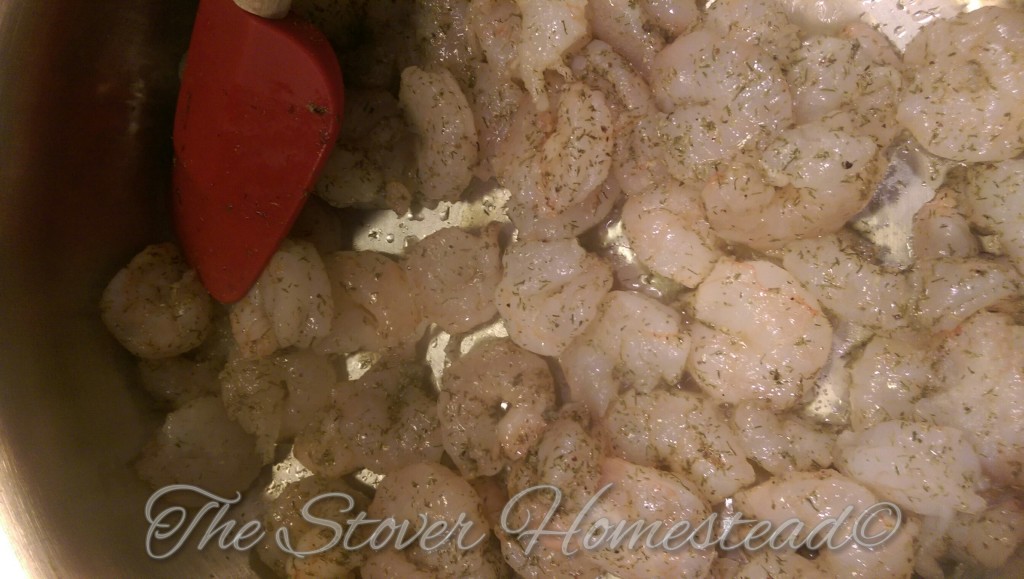 Step six is everything comes together.  The two lemon wedges left are squeezed over the warm roasted cauliflower.  I actually said to The Reno Kid that this seemed like a lot of lemon, but with the additional cauliflower maybe it wouldn't be strong?  The shrimp are served with the cauliflower, but we kept the rice separate.  You add scallions on top of the dish before eating.
The results? Phenomenal.  Seriously.
The shrimp weren't tough and chewy at all; the rice was actually my favorite part.  The addition, let alone the toasting, of the spice and herb mixture was such a no-brainer.  I think it was brown basmati rice, too, so it was fragrant as well as tasty.  We agreed that if we had wanted, I could have skipped the second cauliflower.  I had considered adding a green salad on top of the meal, but it wasn't necessary.  I purposely waited until after we normally eat to see if we would be so hungry that we would still want something else after the meal was finished.  It doesn't hurt that my kids are shrimp lovers, but my 17-yr old son sat and picked at the platter until less than a 1/2 cup was left.  Only then did he set aside the smidgen of food for his dad to try when he arrived home.
Here's the comparison: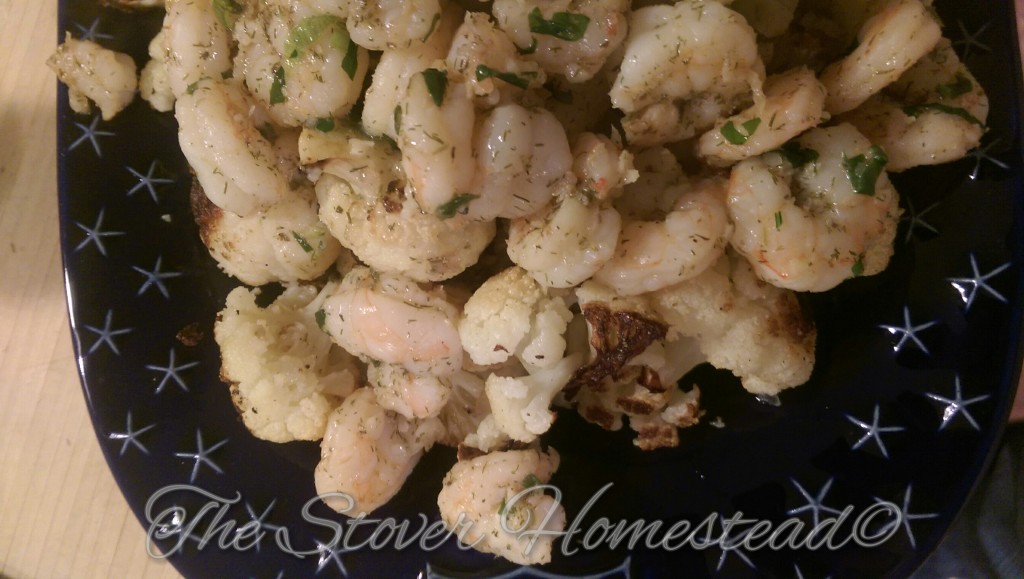 What do you think?  How did we do?
Is A Meal Delivery Service Right For Me? Part 1 of 4
*The nice folks at Blue Apron gave me permission to use this photo.  Thanks!*